(SAT AUG 27 2022) MILONGA ULTIMA (Hove)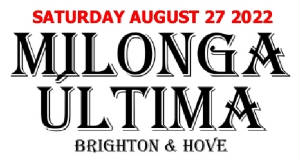 (SUN SEPT 11 2022) NUEVO TANGO TEA DANCE (Hove)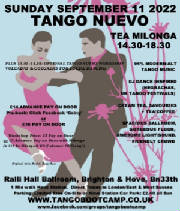 (MONDAY AUG 15 2022) BEGINNERS/IMPROVERS & INTERMEDIATE/ADVANCED CLASSES & PRACTICA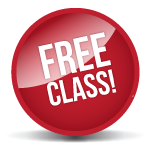 (OCT 29/30 2022) BEGINNERS BOOTCAMP (Brighton)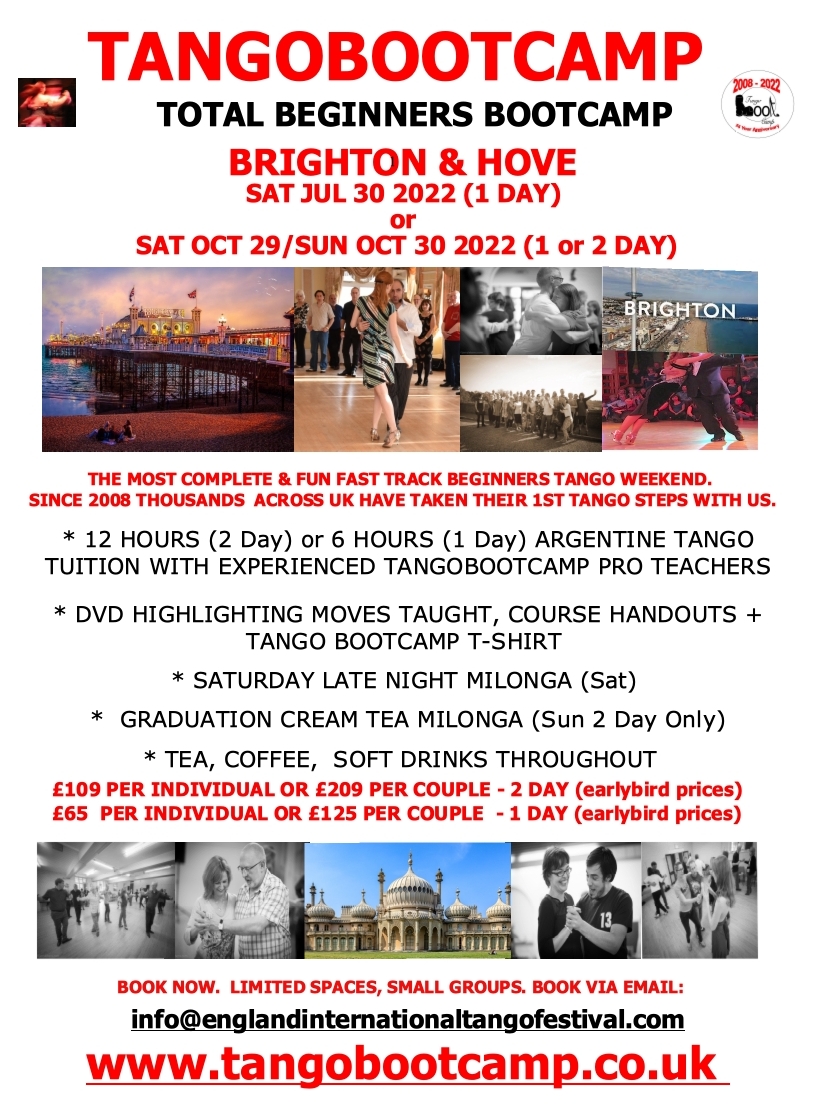 (APR 29 - MAY 02 2022)ENGLAND INTERNATIONAL TANGO FESTIVAL (Brighton)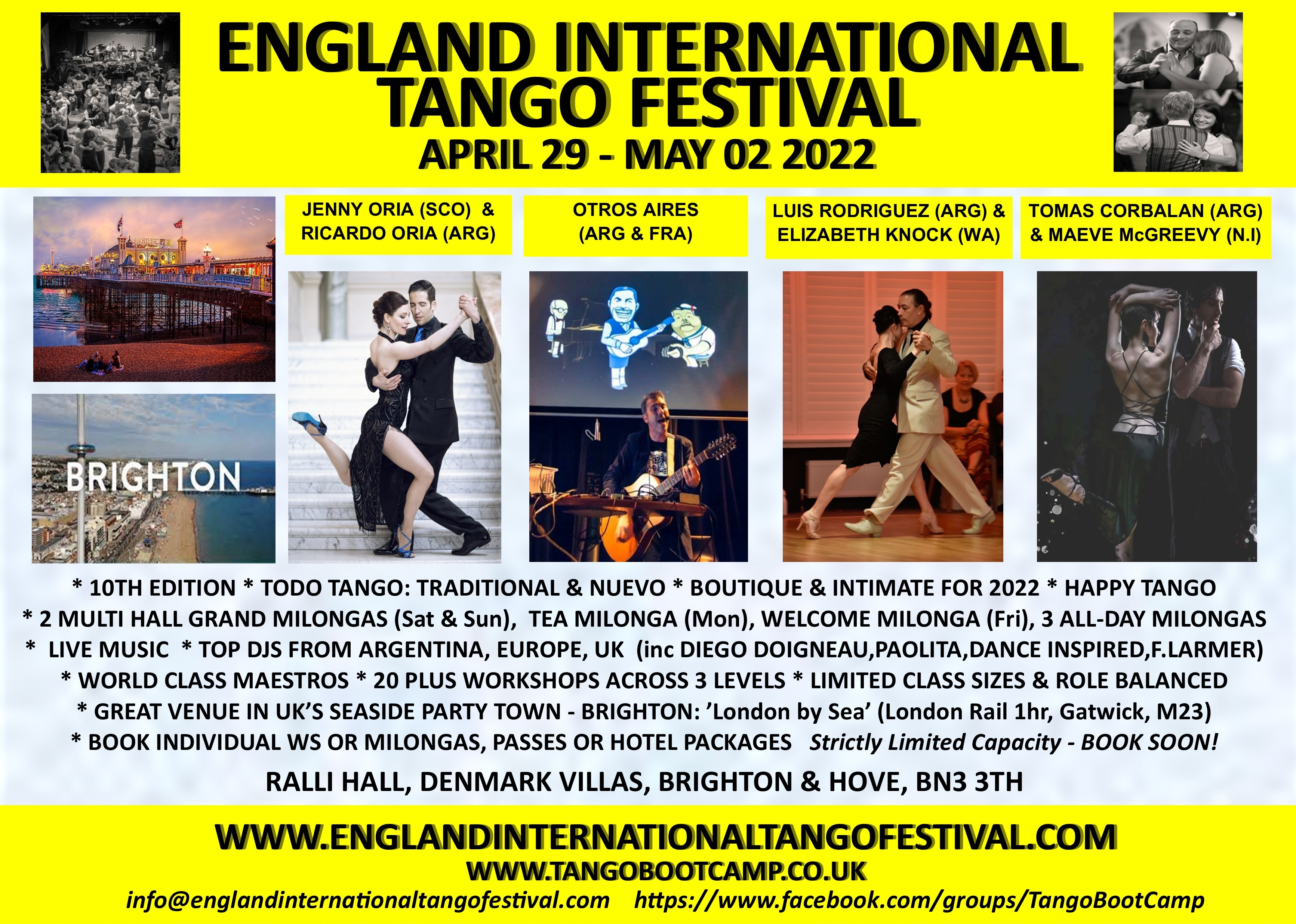 WEBSITE CURRENTLY BEING UPDATED

After a long sad absence, Tango is slowlyreturning. Thank you so much for your patience.

Covid Precautions are currenlty in place at all our classes/events.

We can't wait to see you all again and to safely bring you more wonderful Tango Experiences.

Please keep checking website as we update the pages.

Sunday Feb 09 2020 (Hove)
NUEVO T MONTHLY MILONGA

14.30-18.30 Nuevo Tango Milonga

Cream Tea & Savouries

95% Nuevo/Alternative/Tangoable Chill /5% Traditional

Ralli Hall, Denmark Villas, Hove, Bn33th



Monday Feb 10 2020 (Hove)

19.30-20.30 Beginners + Fundamentals Class
20.50-21.50 Intermediate/Advanced Class + Separate Beginners/Fundamentals Consolidation
20.30-20.50 + 21.50-23.00 Milonga (90% Traditional in Tandas + 10% Nuevo)
Ralli Hall, Denmark Villas, Hove, Bn33th



Tuesday Feb 18 2020 (Hastings)

19.30-22.00
Monthly workshop for Hastings Tango Club
All Saints Hall, All Saints Street, Hastings Old Town, TN34 3BP


Saturday Feb 29 2020 (Hove)
OUR NEW MONTHLY MILONGA TIME (last Saturday of month)

20.30-01.30 The Brighton & Hove Monthly Milonga

Brighton's busy, late night Milonga

95% Traditional in Tandas/5% Nuevo, Bar, Free Hot Snacks
Ralli Hall, Denmark Villas, Hove, Bn33th



Wednesday FEBRUARY REOPEN (Brighton)

CURRENTLY AWAITING CONFIRMATION OF VENUE LICENCE UPGRADE. REOPEN IN NEXT FEW WEEKS!!

St Augustine's, Preston Park , Brighton, Bn16ea
19.30-20.30 Intermediate Class (main floor)
19.30-20.30 Beginners Class (separate area)
20.30 - 23.00 Practica/Milonga (main floor - dj Paolita)


MAY 23/24/25 2020 ENGLAND INTERNATIONAL TANGO FESTIVAL
UKs Biggest Tango Festival in New Large Venue. Top Exclusive World Champion Artists, 6 Massive Milongas, Live Music, 33 Workshops
JULY 25-26 2020 (HERSTMONCEUX CASTLE WEEKEND)
Amazing Location, Stunning 2 Floor Event, Overnight Accommodation on-site available, Workshops, BootCamp
Herstmonceux Castle Tango Weekend
Oct 30-Nov 01 2020 (Brighton)
BRIGHTANGOTHON INTERNATAIONAL TANGO MARATHON

4 Massive Milongas, 6 Top Djs, Workshops, BootCamp
Ralli Hall, Denmark Villas, Hove, Bn33th
Feb 13-14 2021 (Brighton)
VALENTINES TANGO WEEKEND SPECIAL

2 Massive Milongas, 6 Workshops & Show from Internl Guest Teachers
Beginners BootCamp
Ralli Hall, Denmark Villas, Hove, Bn33th
Tuesday (Worthing)
TUESDAYS WORTHING CURRENTLY TAKING A SUMMER BREAK
PLEASE CHECK WEBSITE FOR REOPEN WORTHING DATE
19.30-20.30 Beginners Class
20.30-20.45 Practice (all levels)
20.45-21.45 Separate Intermediates + Beginners Consolidation Classes

WORTHING HIGH SCHOOL, South Farm Road, Bn14 7ar